Horizons

TEDxOhioStateUniversity
Main Event Identity Design

🙆‍♂️Participants: Myself + Design Lead Nick R.
🕓September 2020 — February 2021
📦Deliverables: Speaker symbol system, T-shirt design, comprehensive identity elements, & promotion material
Project Brief:
Horizons is TEDxOhioStateUniversity's 10th annual main event. Horizons is also the first ever virtual TEDx conference, designed and curated to meet the challenges of the COVID-19 pandemic. The event featured 11 speakers, some of which were the youtube renowned Coyote Peterson, world renowned soil scientist Rattan Lal, one of the world's foremost authorities on paleoclimatology and glaciology Lonnie G. Thompson, and others.
Design Objective:


Design a unique and comprehensive identity that celebrates this year's theme
Horizons: Symbol System
Speaker Icons + Production Health Precaution Icons
Speaker Icons


Long before production had started, I received short and concise speech summaries written by the 11 speakers. Each about 100 words, the summaries served as brief introductions to the speakers' general topics. Based  allowing me to contextualize and personalize an icon fitting to their topic.
Production Health Precaution Icons


Six in total, the Production Health Precaution icons were used during the credits of the final production. I considered them as "fine print" icons and thought of them as the second cousins to the main speaker symbol system. I explicitly designed them to be different from the speaker icons, while still utilizing their primary colors and elements.
Horizons: Promotion + Print
Social Media Reach + T-Shirt Design
Primary Touchpoints — Social Media
All roads lead to Rome, but most of Horizons' marketing channels led to our Instagram page. Wether it was word of mouth, emailing professors and acquaintances, or our newsletter that grabbed the attention of potential viewers, most of them were expected to fall back on our Instagram page for further information. Create exciting, informative, and easily-sharable graphics was our strategy to successfully engage our base.
Design in Action
The graphics I created reached roughly

8
0,000 users
, a conservative estimate corresponding to about 10% of the total followings of all accounts that promoted the event. Many organizations, departments, and public figures, such as our speaker Coyote Peterson with his 700,000 strong following, had posted promotional material for the Horizons event. 
Annual T-Shirt Design
As the lead designer for the TEDxOhioStateUniversity's Horizons event I also had the honors of designing our annual T-shirt. The final design is a balancing act between TEDx' colors and Horizons' graphic elements. Our leader Jessica Kavinsky sported the shirt in her appearance during the final production of the event!
Horizons: Final Production
Design Application in Final Production
A Design Symphony
Spanning across 2 days, the final Horizons production aired live on YouTube, and can be found on TEDxOhioStateUniversity's website. The Horizons event ended up being the second most registered-for event led by a student organization in Ohio State's history.
Note: Everything above this chapter was designed and created by me. The following animations and stage design were led and designed by the Design Lead Nick R. and Designer Angel L. Their work is spectacular and worth showing.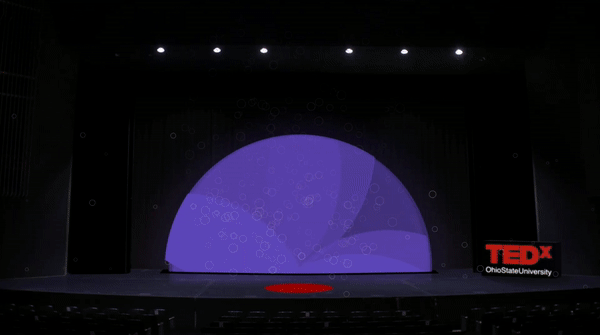 Horizons: A lovely experience
Conclusion
Horizons was an experience like no other, made possible by the months long collaborative efforts of students across many disciplines and majors. I am grateful to have been a part of such an amazing event and honored to have been entrusted with such an important role during my first year of membership. Among a team of 6 designers, my work for Horizons earned me the "

Design MVP of the year

" award, decided on by the leader of Design Committee, Nick R. 

I can't wait to see what next year's event has in store for us and I'm looking forward to more creative problem solving (hopefully, in person).